Alix Gaytan
"I think Francis Bacon understood his life through his human figure."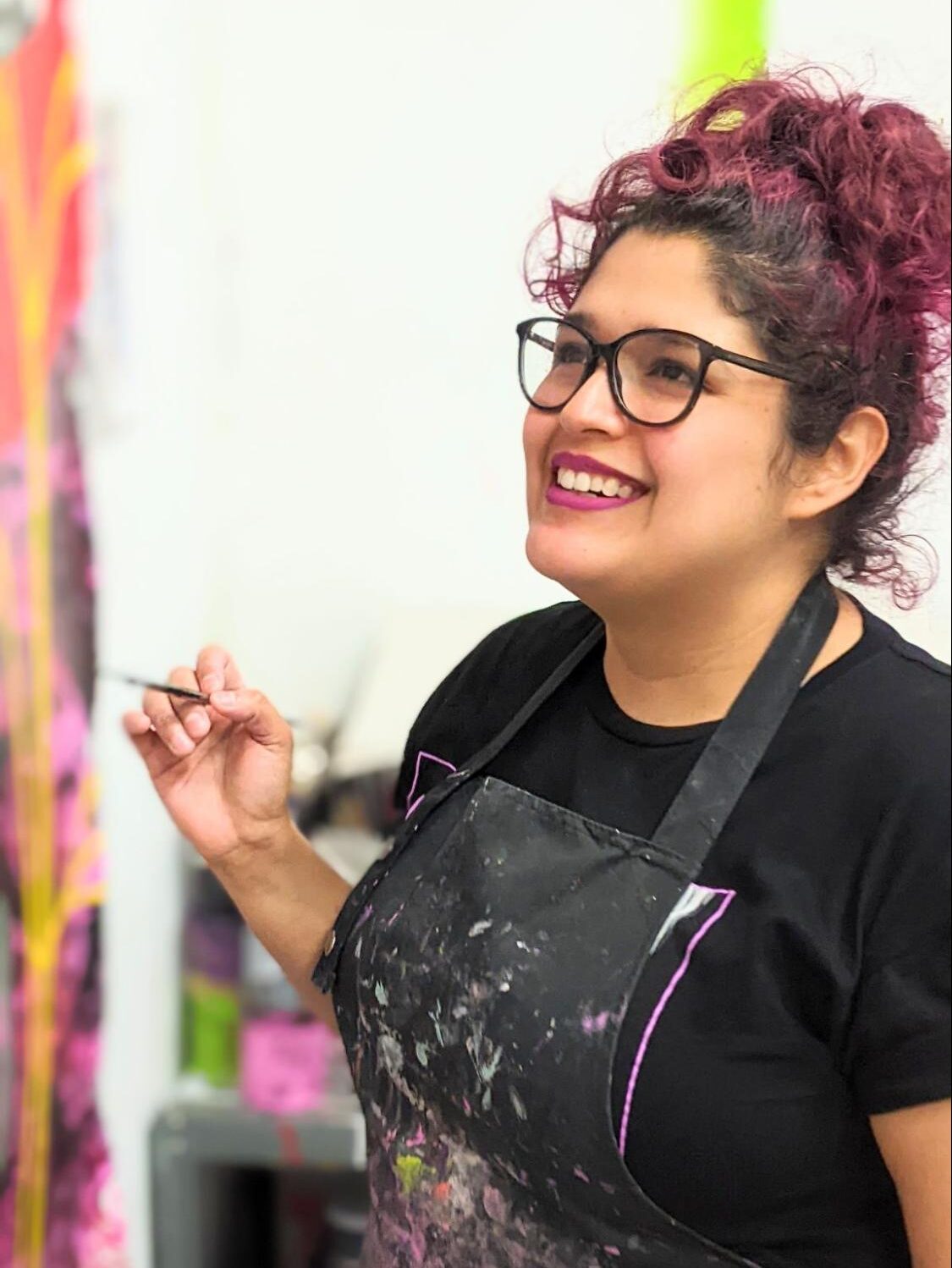 Alix Gaytan is a Mexican-American artist born in El Paso, Tx. Gaytan's work explores the abject and its relation to chaotic human behavior. She creates images of insect humanoids forever confined in their constant fragmentation within chaotic atmospheres. These humanoids are born from body fragments with diverse mutations, while they become surrounded by dysfunctional human organs and vascular systems. By employing painting, drawing, and printmaking techniques, bodies and backgrounds coalesce into an attraction-repulsion frenzy. When fear and confusion are expressed through our bodies, they are violently transformed into something uncanny. Ultimately, her ambition is to offer a visual testament to the durability of the human mind and its never-ending metamorphosis.
Gaytan obtained her BFA from the University of Texas at El Paso with a major in painting and a minor in printmaking. Currently, she lives and works in State College, PA. where she is pursuing an MFA in Studio Art with a concentration in painting and drawing at Penn State University.
Alix: Hello, my name is Alix Gaytan. That's how you pronounce it.
Megan: Your recent show is titled Horror Vacui. This title is in relationship to the abject. Can you expand on how the abject relates to your artwork?
Alix: When I talk about the abject and how it relates to my work, I like to start by giving the definition that I find more fitting to my work. There are multiple definitions of the abject and what it means.
I like to go by the one described by Julia Kristeva in her book Powers of Horror, which is pretty much what disturbs the boundaries. What disturbs the norm? What pretty much breaks the system or any type of systems. How I relate that to my work, I like to think that my work is looking to disturb what is conditioned as normal or rational. And it does this by disturbing the basic identity of what a human body means to us.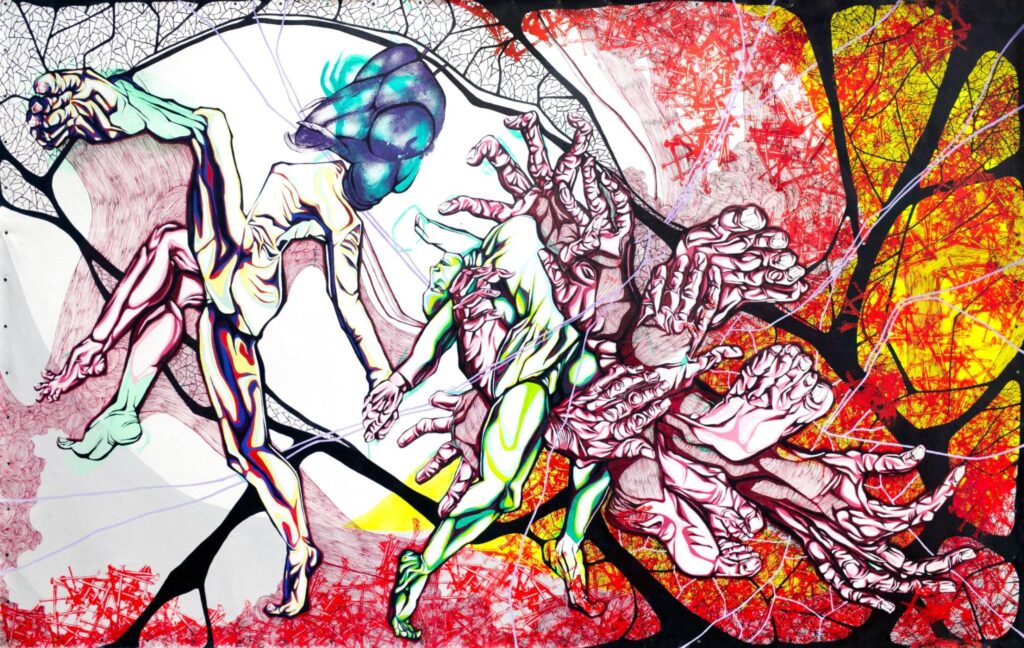 Megan: Yes, the disturbing depiction and dissection of the body is clear in your work. I am curious where those ideas stem from.
Alix: The basic inspiration comes from my childhood. I mean, I always have to go back there because I was sort of an odd child in that way, at least compared to what it was supposed to be. A little girl, it means, pink dresses and ponytails.
Megan: Which is not your style?
Alix: I was never like that, even if my mom would dress me, I was never that. I have a really good memory from early childhood. You know, like three years old, like four years old. I was always more into going outside and playing in the mud. Or I would watch cartoons for little boys or play with my boy cousins. And then on top of that I come from a very conservative family.
Like rooted, a nuclear family. A family that had a lot of old traditions regarding religion and what your body is. My mom, I remember, used to refer to menstruation being sick or ill. That is the sort of thinking that I got. The idea my body was always at risk because I was a little girl.
Since an early age, I wanted to play with the boys. I wanted to get into fights and squish bugs. And I wanted to watch horror movies. A lot of the TV that I saw, I probably should not have seen. And I grew up with a lot of movies from the 80s nineties, horror movies and sci-fi.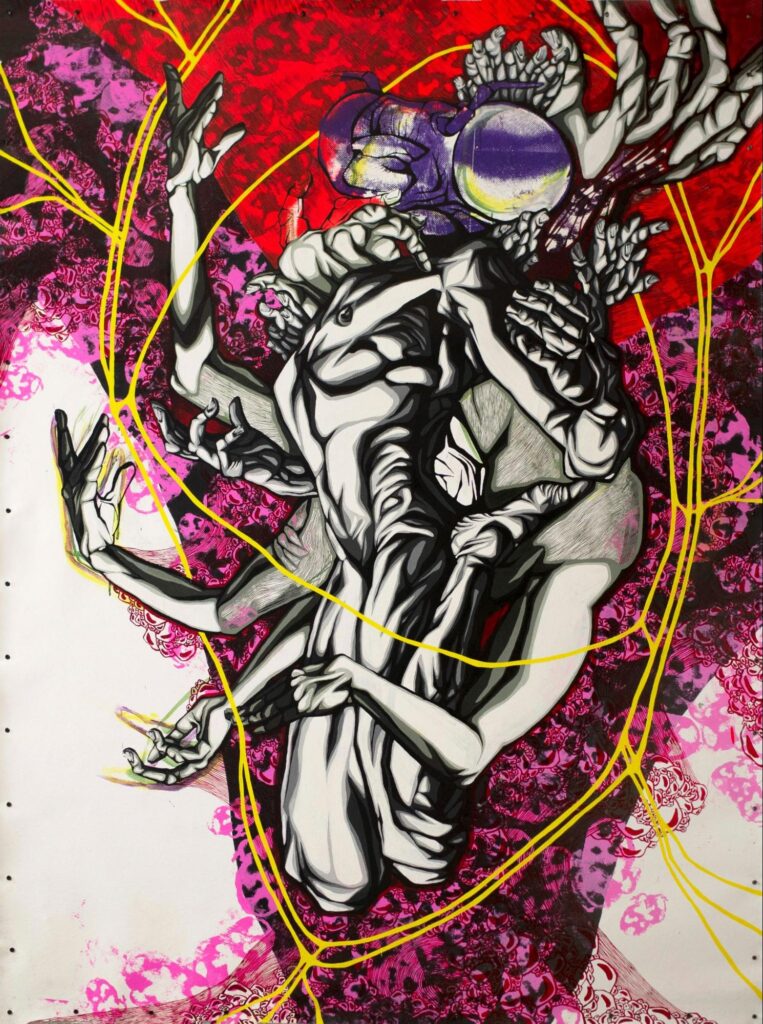 Megan: I see the influence of horror movies and sci-fi in your work. I also am fascinated to hear how your interest in Francis Bacon is portrayed in the imagery.
Alix: I think it goes back to, obviously the human figure. I am part of the school of painters that is fascinated by the human body. I see it as the ultimate way to understand the human condition. I believe that if you do not understand what your body is and what your body means to you, the capacities of your body and rules of your body, then you cannot understand anything else or anyone else.
I think Francis Bacon understood his life through his human figure and through the human fear of others. Obviously, he abstracted the human figure in a lot of shapes and forms, and that is the same thing I am doing in a way. I do not want to say another version of his work, but in a way it is. I mean, if you deal with the human figure, just you are just doing another version of someone else's work. I mean both depicted animals in a straight forward way. I think he was definitely better at combining the animal world and the human world. In his paintings, you could not tell what was animal and what was not. In my mind, you can tell the boundaries. Obviously, the figure has an insect's head. But I like that distinction. Maybe in the future it will melt into something more anthropomorphic.
Megan: It is evident in your work that you make in diptychs and triptychs. I am curious about if this stems from any duality of your life experience and living in the border city of El Paso, Texas?
Alix: It was not something that I was doing intentionally. It was just something that I like in terms of aesthetics. I think it is soothing to see in a series of work. Sometimes I feel that if you do just a single work, it is not enough to tell a story. So I need to do a series. See how this story can change.
I think subconsciously, growing up in the border region of El Paso Texas and Ciudad Juarez, Chihuahua, Mx.
(living in El Paso) does (impact the work). You grow with a duality. You are from one side, and you are from the other side. This means sometimes you are not considered to be part of either. It is like you are from there, but you are not. It is always this weird distance.
When I was talking about my childhood. I was a little girl, but I never felt fully what a little girl is supposed to be or now, what a woman is supposed to be, in terms of my upbringing and the conservative background that I am.
Also, I grew up with religious imagery, which goes back to the tradition of diptychs, triptychs, and enormous suffering figures. I was told to pray all the freaking time and "stay there". Well now I am going to defy all that by making those ideas my own.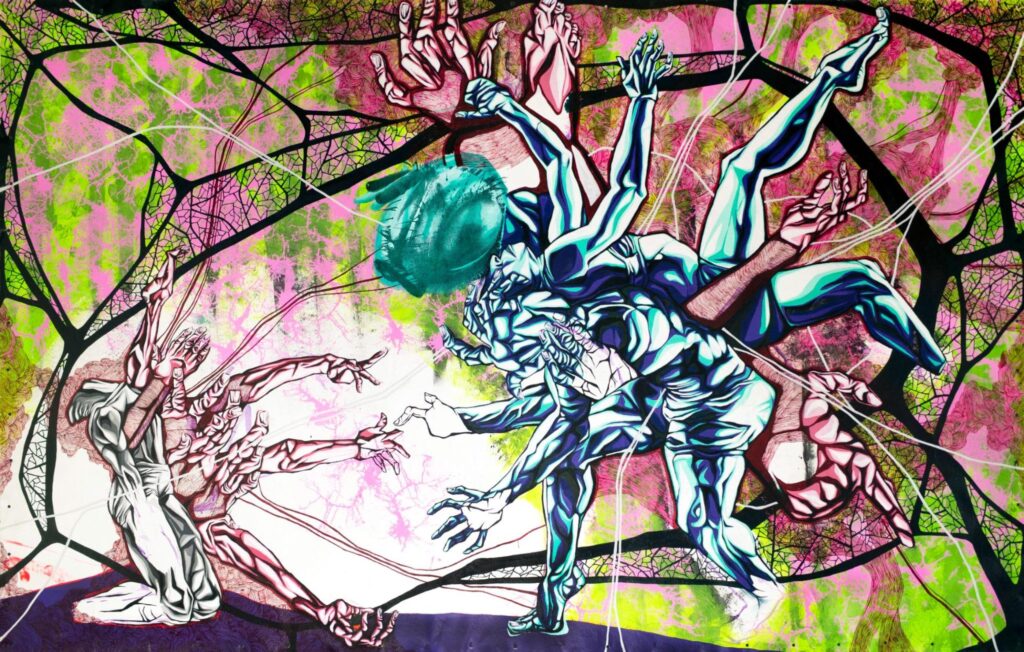 Audrey An
"I am referencing my cultural upbringing and the social norm. What experiences are different from here and there?"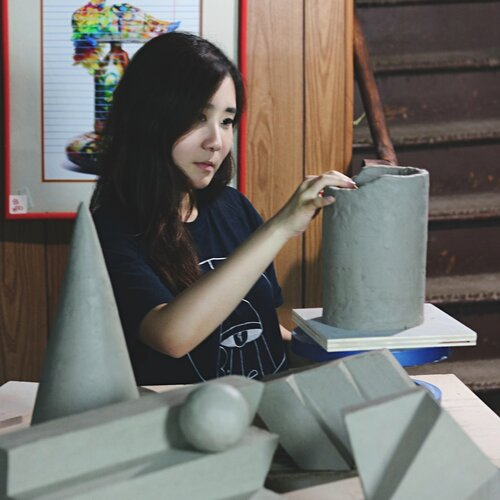 Audrey An received her BFA and Art History Minor from Alfred University. Upon completing her degree in 2017, she received the Windgate-Lamar Fellowship from Center for Craft to fund her two-year post-baccalaureate at Colorado State University and to travel around historic and contemporary centers of ceramic innovation, including Icheon, South Korea and Jingdezhen, China. Audrey currently lives in State College, PA where she is a graduate student at Penn State University.
Deeply investigating the boundaries of physical-digital design and its fabrication, Audrey's work explores the intersection between craft and technology. During her time at Penn State, Audrey's objectives will be around the question of how to apply advanced digital technologies to ceramic creativity from the perspective of 'convergence', which could be cultural, technological, dimensional, or interdisciplinary.
Audrey: My name is Audrey An, and I am currently a Graduate student in studio art, concentrating in ceramics.  
Megan: How has moving between South Korea and the United States influenced your artwork? 
Audrey: I think growing up I always felt that when I got used to one place, my parents were like "let's go". This idea of a sense of belonging is something that I have thought about since I was young. I use my work to ground myself or give a sense of presence. Like I belong. My cross-cultural or bicultural movement made me question where do I belong? And my work helps me think that I do belong in the places where I am present. A lot of my older work used a sampling of architecture and tile to create a sampled atmosphere of a certain place. Some of the work looked like the infrastructure of roofing or building components. These components were reminiscent of the human history of making modular forms or building blocks. During my graduate study, this idea of using sculpture work to crown myself became more about interior space and using furniture to create a platform for my objects of memories or objects of curiosity to be curated on top. 
Megan: Some of your work has the topography and landscape of locations you have lived. 
Audrey: Yeah, totally. That started because I was fascinated how you can get digital data of a certain pinpointed location and fabricate it. When I first got to Penn State I did a few series' of the topography of my lived region and sampled that as a linear composition. The places I have been, a past and present kind of thing. Then I used that to make an archway to think about a portal to past locations. 
Recently I have been degrading and minimizing their mesh numbers to make them look more faceted and abstract. This abstraction notes how those locations are becoming fuzzy to me. They are not places I am familiar with anymore. Yes, topography landscape has been part of my work for a while.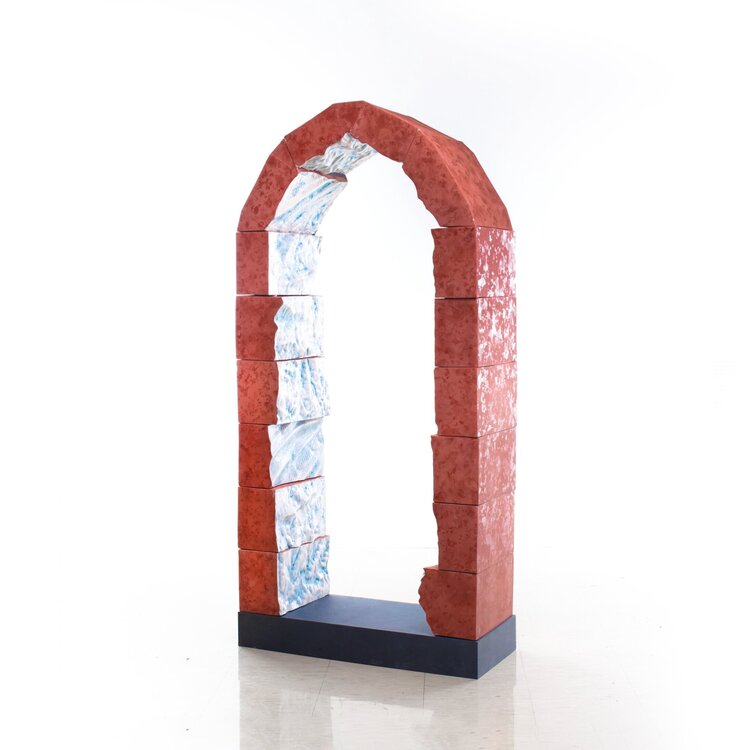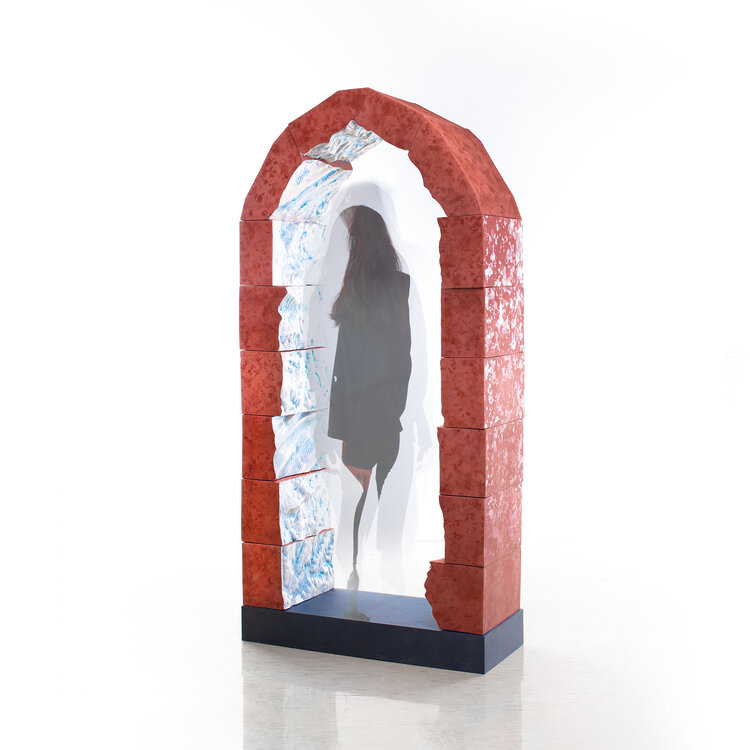 Megan: In recent work, you combine craft, technology, and emotional objects. Can you elaborate on your process? How do you get to a final result such as the Naughty Chair?  
Audrey: Craft and clay as a material, have a deep history. A lot of people get introduced to clay through the wheel, maybe in high school or an Arts Center setting. I learned about clay in a college setting and the school that I was at has a fairly traditional approach to ceramic working. Alfred University started as New York State College of Clay working and there is an engineering side and art side that got developed over time. It does have that like "craft baggage", but it helped me to learn so much about curiosity towards materials. Long story short, tile working helped me to think about craft. My introduction to clay was tile working and it made me think about finessing or learning techniques. Mastering a technique or technology came from my initial interest in graphic design. 
When I started attending college, I wanted to be a graphic designer, so there is a sense that I was already tech-savvy or interested in working digitally. Tile working has a lot of pattern making and ideas about tessellation which is easy to do in a digital interface. They kind of merged together during the latter part of my undergraduate and post Baccalaureate studies period. My mentor at Colorado State, Del Harrow, is someone who is known for merging craft and technology. When working with him, I basically learned everything that I do here at Penn State.
My post-baccalaureate studies was a time for me to gain skill-building and graduate school has been the merging the technical capabilities with ideas about my upbringing. The emotional objects that you noted were created either by hand or through technology. These objects were on display in my thesis show; Endless Orbit Oscillation Between. The idea of endless orbit got started during Bonnie Collura's class Body Issues and Objects.
Audrey: I was thinking about a continuous train of thought that starts at; where do I belong? This idea of missing people who I do not get to see when I am in Pennsylvania and who I do not get to see when I am in South Korea. This will forever live in me as an orbiting situation. Creating recent work made me think about how all the work that I have been making in grad school is derivative of the orbiting concept. 
With the knotty chair, there is a childhood nostalgia at play. I feel like there is still youthfulness in me, but I do not feel like I am fully an adult. It is like a combination of going through a 3rd puberty in a way.
I still cannot get over the idea of growing up and moving continuously. This "endless orbit" and the second part of the sentence "oscillation between" encompasses my ways of navigating dichotomy. A conceptual tool of navigating past and present, here and there, myself and other, and analog and digital.
Megan: Can you expand on the placement and combination of your objects? 
Audrey: I think about storytelling. All of my assembled objects became symbolic. Items that piqued my interest in the US and South Korea. For example, I combined two types of pears on a rocking chair, which talks about the oscillation of emotional rocking that I go through.  
The frog is a reference to a Korean folktale. The frog always does the total opposite of what its parents tell it to do. I am contemplating, when will I listen? I am referencing my cultural upbringing and the social norm. What experiences are different from here and there?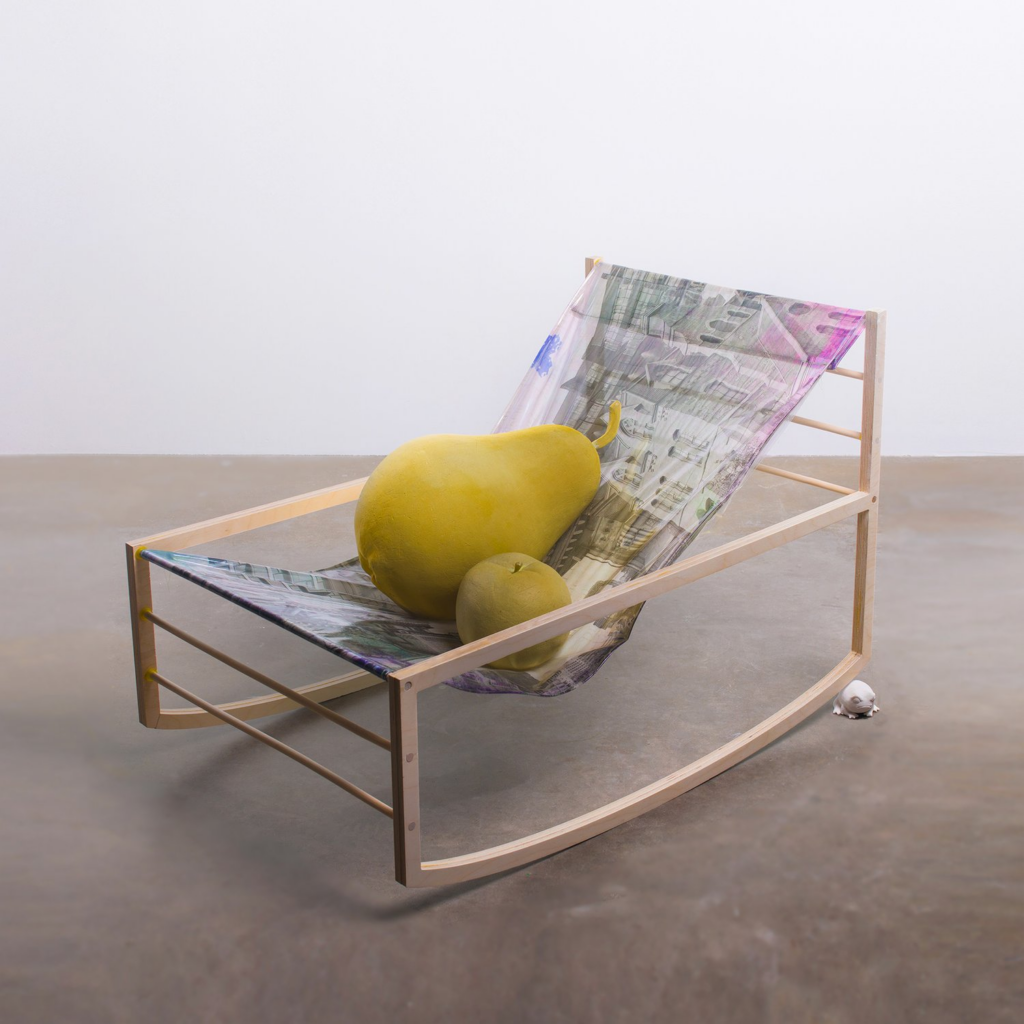 Marissa Baez
"Looking into personal ancestry allows people to participate in some way of decolonization."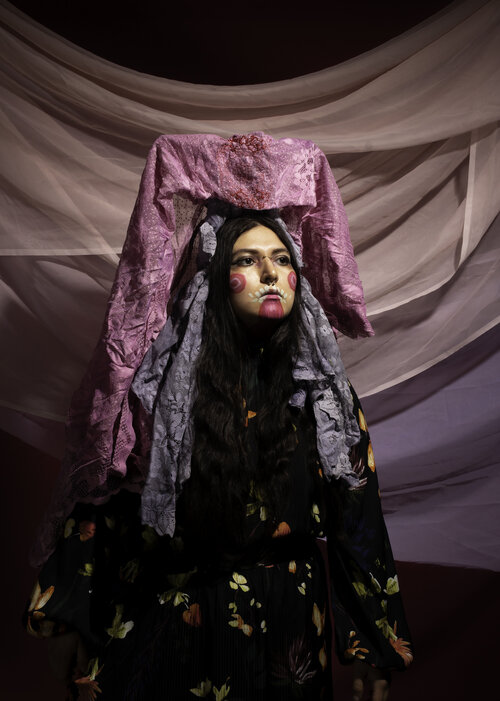 Marissa Alise Baez was born in 1997 in Houston, Texas. Based in the United States, Baez is a multidisciplinary artist interested in memory, ephemerality, identity, and the body. They studied Sculpture in the Department of Visual Art at Texas Woman's University and graduated with a BFA in May 2019. Baez graduated with an MFA at Penn State School of Visual Art 2021.
Death, history, ancestry, material, and decolonization strongly influence my work. I connect these paths in order to explore third-space identity. Learning and talking with Lipan Apache elder Dr. Eloisa Tamez inspired me to research more about Texas history and the absent truths. There are people who still carry knowledge passed down through oral histories, and should not be overlooked. This led me to weave family narratives into my cosmology. I have been searching for the origin of spiritual practices passed down in my family that my maternal grandmother kept secret. I encountered a path full of patches when exploring my family's past. Similar to my methods of creating, my research paths are endless.
Marissa: Hello everyone, my name is Marissa Baez. I am a multidisciplinary artist. And I am currently a part time faculty member at Penn State University and am teaching three classes. 
Megan: You work in many platforms including sculpture, video, photography, and performance. How do you choose your medium for a project? 
Marissa: It really depends on what I'm researching at the time. For example, if we look back at the Mantilla; that was work that involved researching natural dyes and Spanish textiles. So that led me to look into Spanish headwear. Sometimes it can be a bit more of an intuitive way of working, but for the most part it's based on the research I am doing. 
Megan: Do you kind of choose the medium based on the connection to your concept and research leads your process? 
Marissa: Yes. 
Megan: Looking at your whole body of work, I was particularly interested in this character Doll and I was wondering if you could talk a little bit more about who Doll is? 
Marissa: Yeah, I do not really classify Doll as a character, I would say more of an entity I have created. But it all started out with a photoshoped piece of art I created. I envision the photoshopped image to be their true form. Later, I began sewing clothes and a wardrobe for this entity, picking out specific shoes and shirts for this entity to wear. And the makeup, I see as a kind of masking. Masking what is underneath. 
If you see in the "real-life version" of the portrait, with me actually dressed up as this entity, the cracking of the makeup is Doll's true form coming out a little bit. But if we were to talk about its existence, it would exist in my mind. I keep it there so it is not completely erased.
Megan: With Doll existing in your mind, are you making the entity, art for yourself? 
Marissa: Yes and no. There is a lot I would say is made for myself, but then there's a portion that I want others to just simply investigate and research about themselves. Specifically their ancestry and their families. Decolonization is one of my key topics, in order to decolonize, it's also important to learn about your ancestry. If we think about it, I am going to use finger quotes; "white culture," does not really exist. "White culture" is like white supremacy. But European culture for example Polish ancestry, is something that exists. 
Looking into personal ancestry allows people to participate in some way of decolonization. Next, I encourage them to learn more about the history and investigate what people have been taught. What was wrong with what they learned? What was just completely erased?
Megan: I am hearing powerful words and actions like decolonization, participation and erasure. How would you summarize your practice to someone who is unfamiliar with these terms? 
Marissa: I mean, the average person knows more. There is this assumption that just because someone is not in the fine art field or studying decolonization they do not know. That does not mean that they do not know what some of these conversations are about. 
Megan: Related to your gallery work, can you describe your recent thesis exhibition? 
Marissa: In my thesis, I have included a lot of works that revolve around reconnecting and mourning. I looked back at one of my bigger pieces that were not complete and multiple things kind of stem from that. The passing of a loved one that I was very close to. The show includes references to Mushika culture and tries to connect that to my practices and my grandmother. I am trying to really investigate and research where I might belong. It revolves around existing in this 3rd space and navigating third space identity. 
Megan: Thank you for sharing about your family and familial experiences. Do you have any personal background that you would like to share? 
Marissa: Yes, I am from Texas. I was born in Houston and I grew up in Fort Worth. Both of my grandparents lived in Texas. My maternal grandmother was first generation. My grandfather, her husband's family had been (in Texas) back when it was considered Mexico. 
Megan: You mentioned that there is a lack of information when you are trying to kind of search for? 
Marissa: I look a lot on my mother's side of the family. If I look at my grandfather's side, he was separated from his dad at an early age. He lived with one of his grandmothers, who we believe was his mother's mom. He faced a lot of abuse from one of his uncles there. He was forced to sleep on the porch. That influenced one of the works that I did during the pandemic. "Things I'm not supposed to do on my front porch." 
My work also focuses a lot on labor issues because of him and how he was taken advantage of. But I discovered something from Doctor Lipan Apache elder Dr. Eloisa Tamez's story. Years later, after seeing her documentary, I finally put two and two together. Doctor Tamez had mentioned in the documentary that the Texas Rangers would target Mexican families. They would burn their documents and retake their land. Retake deeds. To clarify, it took me years later to connect the dots. I saw her documentary a long time ago and not during my time at Penn State.
I wonder if something happened to my grandfather's mother because we cannot find her birth certificate, a real death certificate, or anything on her parents. It makes me wonder what happened to them, but there is no way for me to know.
Zsuzsanna Nagy
"In the end, what I want is to make people feel."
Zsuzsanna Nagy is a Hungarian-American artist currently residing in State College, PA. She received her MFA from Pennsylvania State University in 2020. Her work has been shown in group exhibitions across the US, including in On the Block, Images from the Street at the Lucie Foundation in Los Angeles, CA, and WideOpen 2020: Excellence in Photography, Second Biennial Exhibition in Athens, OH.
Zsuzsanna currently teaches photography at PSU. She is the gallery manager and curator of PSU's Woskob Family Gallery in downtown State College.
Zsuzsanna: My name is Zsuzsanna Nagy. I am currently teaching photography at Penn State University and am the curator and manager of the downtown Woskob Family Gallery. I am also a working artist.
Megan: I noticed that in your work you refer to yourself as a peripatetic artist, your process includes movement and travel. A similar kind of process of photographers like Walker Evans. How does this dynamic process impact your work?
Zsuzsanna: That's right, I walk as I photograph. I roam the streets, aimlessly. I am immersed in my surroundings. It's a meditative, focused process. I walk and look with openness, with no preconceptions. As I wander, I let things catch my eye. 
There's very little deliberation or thinking involved, it is rather an intuitive way of working. The resulting images are often impressionistic.
Megan: Thank you. You mentioned you are a working artist and a teacher at Penn State, could you tell me a little bit about your story? How did you get started teaching photography?
Zsuzsanna: Well, it has been a long journey. I only started my MFA studies in my forties. My first professional degree was a law degree. After moving to the US, about 20 years ago, I worked in the hospitality industry for a while. Later I became a yoga and meditation instructor. The critical thinking skills that I gained from studying law, the social skills I built while working in hospitality, the contemplative and self-reflective aspects of my yoga and meditation practice… it seems like they all seep into and leave a mark on my current artistic practice. Is this too long? 
Megan: No, this is great.
Zsuzsanna: I started teaching as a graduate student. I really enjoy gaining a fresh perspective on photography from my students. I appreciate their diverse voices, or better to say, diverse visions. And I get to share my love of photography. I work to gently steer them in whatever direction they seek to go.
To finish up my story…my artistic practice has become the primary joy in my life over the years. It is an everyday practice. It is not so much about building a career and making a series of shows. Rather, it is working, looking, and taking pictures every day.
Megan: Why is it important for you to photograph daily and pick only one photo each day?
Zsuzsanna: When I got started with photography more than two decades ago as a hobby, I kept looking for special moments, and unique occasions to photograph. I rarely made pictures. I didn't go to art school, I was self-taught, so I had no idea how to build an artistic practice.
When I became more serious about photography, about eight years ago, after having moved to London (UK), which was an overwhelming experience, photography helped me ground myself. I decided that I was no longer going to worry about finding special opportunities to photograph. The subject can be mundane, ordinary. I just made a habit of it. It seemed like that was the only way to grow. And I never stopped.
It helped that I started a daily blog. There was an urge to tend to the blog and post something every day. Gradually, it became a visual diary of sorts. Bits and pieces of my life shared regularly, a record of my days.
So, I posted daily on my blog, and then I went further and decided to only keep one photograph every day (out of the hundreds of photos I would take). That photo stands for that day.
Megan: Do you delete all the other ones?
Zsuzsanna: I do.
Megan: Oh my gosh. And you walk around for sometimes hours and then, delete all but one! Does that feel kind of exciting or exhilarating?
Zsuzsanna: It does, weirdly. I do not necessarily think that it is a good idea…  Sometimes I will delete good pictures. In fact, it is quite radical. But I do this in search of simplicity and clarity. I am looking for a way to simplify my life and my practice as well.
Megan: That is beautifully said, I am going to jump over to another question about your upcoming exhibition. Where and when is your show?
Zsuzsanna: I am going to show at the Workshop in Centre Hall, PA in the fall. It is a very unusual space, not a traditional gallery. How would you describe that space?
Megan: It is an industrial-size, historical factory that was repurposed.
Zsuzsanna: Exactly. It's a huge open space. I want to create an immersive experience with projections. I will couple the images with sound.
Megan: You are kind of building a photo installation? 
Zsuzsanna: That is right.
Megan: Your recent body of work took around four years to complete overlapping the pandemic and graduate school. What are you looking forward to in the future?
Zsuzsanna: Well, I do not really look in the future. My practice changes and grows very slowly, invisibly, almost at a glacial pace. I do not know where it will take me over time. 
As my circumstances or my environment changes, my photography tends to change as well. Also, the things I notice and react to keep changing.
At this point, I cannot see myself ever stopping my daily walks. In a few years' time, when I look back, I will surely see changes and new directions in the work that I would not be able to recognize today.
Megan: I am excited to see what your photos look like over the years. Just to round out this conversation, I want to hold a space where if you want to add anything or note an important part of your work or a part of you feel free. 
Zsuzsanna: Well, I said earlier that I am not very driven by working towards shows and projects, but in fact when I get a chance to show my work, I do find it very exhilarating. Once we leave graduate school it is difficult to get feedback on our work. But shows do provide that opportunity. So, I am really looking forward to this show in October. To put the work out there and see how it resonates. In the end, what I want is to make people feel. I want the viewers to have an emotional response to the images.